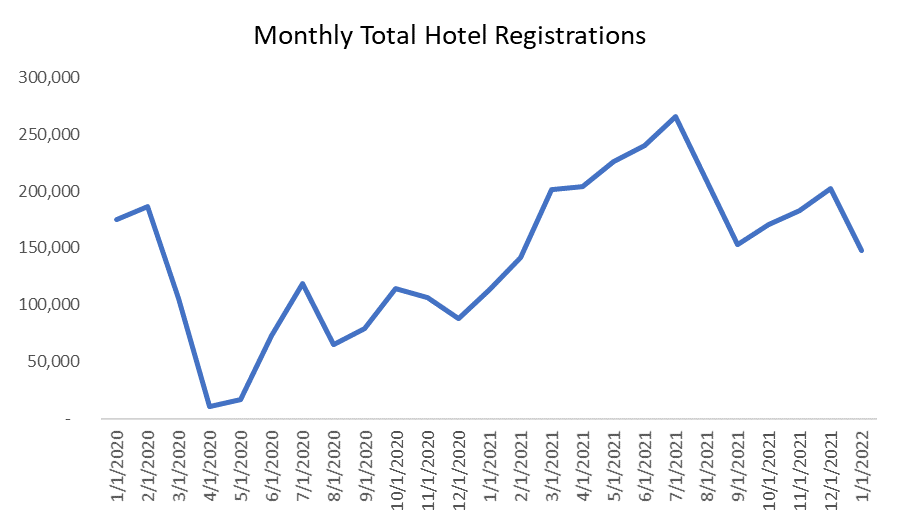 Source: Puerto Rico Tourism Company
The Puerto Rico Tourism Company's monthly report showed a total of 147,763 hotel registrations for the month of January 2022. Compared to January 20021, this was an increase of 34,500 registrations (30.5%). However, compared to January 2020, there were 27,326 fewer registrations, a decrease of 15.6%. After seeing a high number of registrations during the summer of 2021, a similar increase was expected for December and January, traditionally the two most important months for the industry. However, the Omicron wave during December and January had a negative effect on tourism.
Non-resident registrations reached a total of 108,177. Compared to January 2021, these registrations increased by 46.3%. Compared to 2020, non-resident registrations are down by 23.4%. Since falling drastically in April 2020, non-resident registrations have remained above 100,000 for 11 consecutive months.
Source: Puerto Rico Tourism Company
The average daily rate (ADR) during January was $280.37. Compared to 2021, this rate increased by $115, or 69.9%. This rate is the highest seen in the past 10 years on the island. Prior to 2021, the average daily rate had not gone above $198. The ADR for non-San Juan metro area hotels was $310.
January proved to be an underwhelming month for hotels in Puerto Rico. Declining COVID cases, as well as relaxed COVID restrictions, should lead to increases in these statistics for the rest of the year.